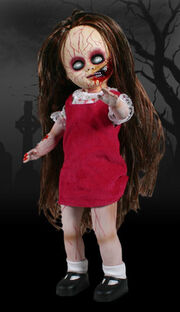 Living Dead Dolls Series 9
Date of Death: 4/20/1979
Chipboard Poem
Edit
At sun up she started to rise,
With rotted flesh & vacant eyes.
She has no thoughts, and feels no pain;
Her sole motivation is to eat your brain.
Death Certificate
Edit
Bit by a zombie, she died and was put in the ground.
At first light the next day she was walking around.
She'll chomp on the living 'til they splatter a bunch.
Flesh, entrails and gray matter, she likes to munch.
Awake from her dirt nap, with not even a yawn,
She arose and is known as Dead little Dawn..
Accessories
Edit
Fun Facts
Edit
Her deathdate is the release date for the movie Dawn of the Dead (hence her name).
She is one of eight dolls with gashed faces. The others are Deadbra Ann (series 2), Angus Littlrot (series 8, variation), Cuddles (series 12), Ember (series 18) ; exclusives Doom and Honey ; Resurrection: Fairy Fay (series IX).
Ad blocker interference detected!
Wikia is a free-to-use site that makes money from advertising. We have a modified experience for viewers using ad blockers

Wikia is not accessible if you've made further modifications. Remove the custom ad blocker rule(s) and the page will load as expected.