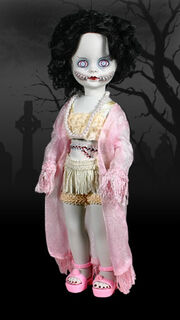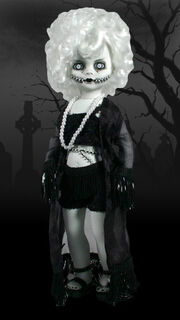 Living Dead Dolls Series 5
Date of death: 1/15/1947 at 10:03am
Chipboard Poem
Edit
Cast - Dahlia
Play - Series 5
Director - Ed Long & Damien Glonek
Scene - Little Dahlia wanted to be on the big screen,
As she would find out the scene was quite mean.
On the morning they found her she had been cut in two,
Just who had done this nobody knew.
Death Cetificate
Edit
Name of Deceased - Dahlia
Last Occupation - Odd Jobs
Cause of Death - Bisection
Fun Facts
Edit
Is based on and shares a death date with Elizabeth Short, nicknamed "The Black Dahlia." Even the injuries on the doll are the same as the ones sustained by Short.
Third doll in the main series to be based on a real person.
Has appeared in Ressurection VII.
She is the first doll to be ressurected and who is based on a real person.
Ad blocker interference detected!
Wikia is a free-to-use site that makes money from advertising. We have a modified experience for viewers using ad blockers

Wikia is not accessible if you've made further modifications. Remove the custom ad blocker rule(s) and the page will load as expected.