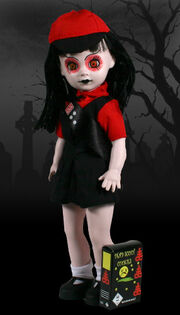 Living Dead Dolls Exclusives
Date of Death
Edit
12/2/1917
Chipboard Poem
Edit
Cookie's troop was not going to win;
Their bake sale recipe was looking grim.
So this sweet girl though it would be best
To unleash her tasty treats of death.
Death Certificate
Edit
On my dishonor, I solemnly swear
To wreak havoc and despair
To crush people's dreams
at all times
And always serve as hell's concubine.
Fun Facts
Edit
Value: $30-$50
Cookie was a Spencer Gifts exclusive.
Her deathdate is the day the Girl Scouts of America started to distribute Girl Scout Cookies.
Ad blocker interference detected!
Wikia is a free-to-use site that makes money from advertising. We have a modified experience for viewers using ad blockers

Wikia is not accessible if you've made further modifications. Remove the custom ad blocker rule(s) and the page will load as expected.