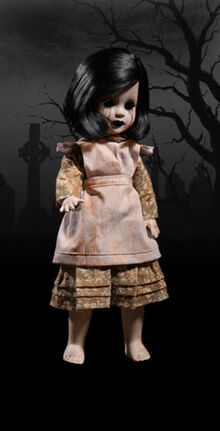 Death Date: N/A
Chipboard Poem
Edit
Deep inside the hollows of the Devil's Vein,
The children mined through sweat and pain.
When the gold was found, the kids were forced inside,
The tunnel collapsed, and that is where Coalette died.
Death Certificate
Edit
Within the first hour she knew they were in trouble
Coalette was the third to succumb in the rubble
She tried clawing her way out but there is no escape from the Devil's Vein
Now her ghost haunts the old mine where her body remains.
Fun Facts
Edit
Her name is a play on the name Colette as well as coal.
Her hair in the 1st test shot was blonde but was later changed to black. Mostly to better fit her name.