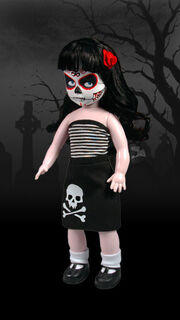 Living Dead Dolls Series 20
Date of Death: January 20th, 1913
Chipboard Poem
Edit
Elegant Catrina dressed for a night out of her grave
Sugar skull cookies are the sweets that she craves
The living have honored her with the altar they made
And she dances her way through the Dia de los Muertos Parade
Death Certificate
Edit
Her grave is visited with gifts for the dead
A ritual celebration including Pan de Muertos bread
The midnight vigil held for this angelitos
To keep the memory living of our little ghost
Accessories
Edit
Fun Facts
Edit
Each doll comes in a newly designed coffin with wood-like graphics.
Catrina shares her name with "La Catrina" a famous mexican caricature from the late XIX century, by cartoonist José Guadalupe Posada.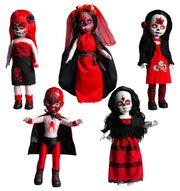 Ad blocker interference detected!
Wikia is a free-to-use site that makes money from advertising. We have a modified experience for viewers using ad blockers

Wikia is not accessible if you've made further modifications. Remove the custom ad blocker rule(s) and the page will load as expected.