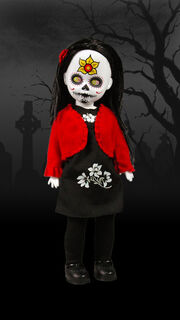 Living Dead Dolls Series 20
Date of Death: Nov. 1st 1939
Chipboard Poem
Edit
"She loves all things morbid," It was often said.
In regards to the outcast with a flower on her head.
But every single day is a date with death.
When you walk the streets in the land of the dead.
Death Certificate
Edit
Stoned to death because she didn't quite fit,
Into their games, into their cliques.
She tried to run but had a trip!
Poor fallen Camilla didn't die quick.
Accessories
Edit
Fun Facts
Edit
Her name comes from the flower on her head.
She is one of three dolls to have died by execution (Ember and Asa being the others).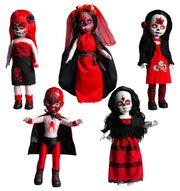 Ad blocker interference detected!
Wikia is a free-to-use site that makes money from advertising. We have a modified experience for viewers using ad blockers

Wikia is not accessible if you've made further modifications. Remove the custom ad blocker rule(s) and the page will load as expected.