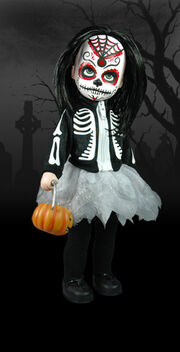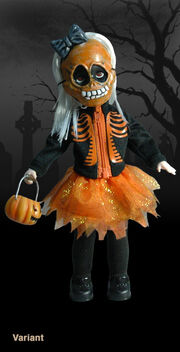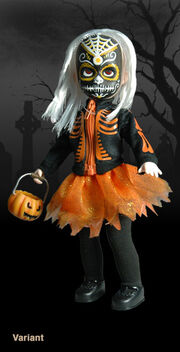 Living Dead Dolls Series 18
Date of Death: November 2nd 2007
Chipboard Poem
Edit
It is Calavera who cries and suffers
for she is completely out of her head
wandering through the grave yard
collecting the bones of the dead
Death Certificate
Edit
On all souls day, Calavera went insane
expiring from the sickness inside her brain.
Her only comfort now is to wander all alone
lurking in the dark collecting dead bones
Accessories
Edit
Pumpkin Basket & Skull Mask
Fun Facts
Edit
Each doll comes in a variant orange and black outfit limited to only 275 pieces.
Her name means skull in spanish, incidently her deathdate is day of the dead in Mexico.
Calavera is the first skeleton doll.
Calavera's mask along with Pumpkin's and Ember's all three have a similar designs with the three main masks from the film Halloween III: The Season of the Witch.
Ad blocker interference detected!
Wikia is a free-to-use site that makes money from advertising. We have a modified experience for viewers using ad blockers

Wikia is not accessible if you've made further modifications. Remove the custom ad blocker rule(s) and the page will load as expected.