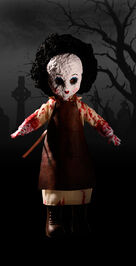 Date of death: 10/31/1918
Chipboard Poem
Edit
She tried to construct a mask
she thought would resemble a Beauty queen.
But the crude replacement face
Was as gruesome as what lay beneath unseen.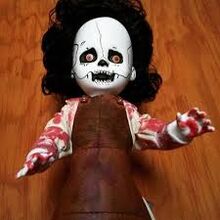 Death Certificate
Edit
Born into a family of butchers
With a peculiar taste.
Meat was the only thing sacred
Never to go to waste.
Most thought her kin cannibals
Insane, an utter disgrace.
One Halloween Boop snapped
Carving and eating her own face.
Fun Facts
Edit
Mask is similar to Leatherface's canceled variant.
Her finalized name comes from 30's cartoon protagonist Betty Boop, who also has black, curly hair.