Living Dead Dolls Series 23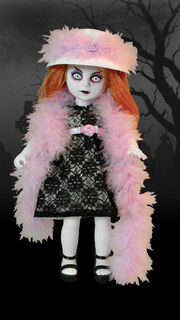 Date of Death: 1,8,1988
Cause of Death: Eaten alive
Chipboard Poem
Edit
She's the host of a most murderous party
Where every guest must fall
She asks that you come early, don't be tardy
Laugh, drink, die! Have a ball!
Death Certificate
Edit
After all guests lie quite dead
Little Betsy was feeling so fine
Until one by one they arose
On a feast of her flesh they did dine
Accessories

Edit
Betsy comes with a teapot while the other four dolls come with tea cups. Each doll with a tea cup comes with a table leg which can be put on a coffin lid to make a tea table.
Fun Facts
Edit
Her death date marks the release of Return of the Living Dead Part II
On January 8, 1988 The Journal of Pharmaceutical Sciences evaluates use of activated charcoal as a poison antidote