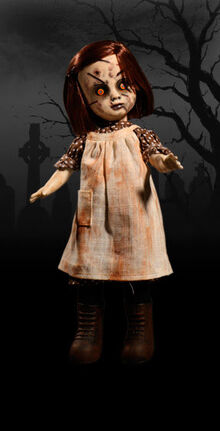 Ash Lee
Date of death: February 13th 1817
Chipboard Poem
Edit
An explosion high above,
The bowels of the Devil's Vein.
Left strong little Ash Lee,
Gasping for air, dying in pain.
Death Certificate
Edit
It all began with an explosion the breaking of a wooden beam.
Ash Lee being the bravest rushed fast and pushed back her team.
As the earth collapsed she fell into darkness, the absence of any air.
Her sister watched with certainty, living was pain, the world unfair.
Fun Facts
Edit
Name is a play on the name Ashley.
She is the only doll in Series 34 to have a death date, everyone else was listed as N/A.
She and Soot are sisters; making them, Tenebre, Sospiare, Lamenta (also sisters), and Hazel & Hattie (conjoined twin sisters) the only dolls to be related to one another.