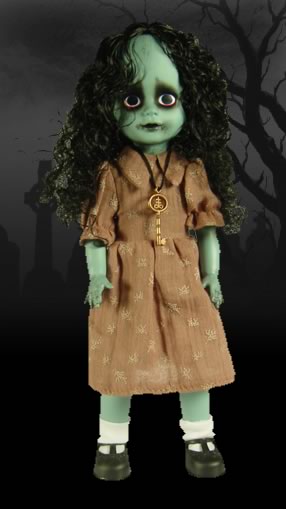 Living Dead Dolls Series 14
Date of death: April 4, 1944 4:44pm
Chipboard Poem
Edit
Ushering lost souls to the other side
Is a job in which she takes great pride
To the final resting place Alison holds the key
But where that may be knows not she.
Death Certificate
Edit
Alison loved to play in revolving doors
Until one day she got stuck
No one saw her on the floor
Of all the rotten luck.
Accessories
Edit
Gold key necklace
Fun Facts
Edit
Alison's death date is the birthday of actor Craig Nelson who starred in Poltergeist.
In Asia, there is great superstition regarding the number 4 and death, in which her death date has four 4's.
Incidently the series, she's in is Series 14, in response her death date.
Ad blocker interference detected!
Wikia is a free-to-use site that makes money from advertising. We have a modified experience for viewers using ad blockers

Wikia is not accessible if you've made further modifications. Remove the custom ad blocker rule(s) and the page will load as expected.