Living Dead Dolls Series 23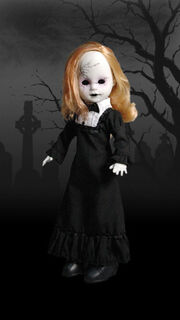 Date of death: December 16 ,1773
Cause of Death: Not Specified
Chipboard Poem:
Edit
A broken doll with a broken face
Left in the corner unwanted, disgraced
The time has come, at the table she's placed
Just don't tell anyone that the tea is laced
Death Certificate
Edit
Agatha was once a shiny new doll
But age and decay she did befall
And now neglected and collecting dust
She views all other dolls with utter disgust
Accessories
Edit
Betsy comes with a teapot while the other four dolls come with tea cups. Each doll with a tea cup comes with a table leg which can be put on a coffin lid to make a tea table.
Fun Facts
Edit
Deathdate is the day of the Boston Tea Party.
She's the only doll in Series 23 to NOT have either a hat or a hood.
She also the only doll in Series 23 NOT to have died in the 20th century.