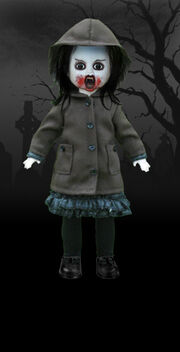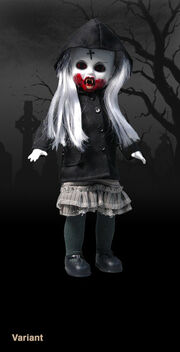 Living Dead Dolls Series 19
Date of Death:Dec. 15th, 1939
Chipboard Poem
Edit
There's blood within her birth name
And more blood upon her mind.
A thirstier lust for blood
One should pray to never find.
Death Certificate
Edit
In life she was thought to die from hemophilia
Back when "Christmas disease" was the name.
Her town doomed to mass hysteria
With winter came Agana, to drink somes lives away.
Accessories
Edit
Fun Facts
Edit
Each doll comes in a variant black and white outfit with red blood.
Her death date is the world premiere of the movie "Gone with the Wind" in Atlanta, Georgia
Ad blocker interference detected!
Wikia is a free-to-use site that makes money from advertising. We have a modified experience for viewers using ad blockers

Wikia is not accessible if you've made further modifications. Remove the custom ad blocker rule(s) and the page will load as expected.