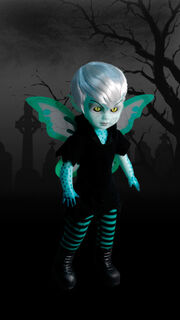 Living Dead Dolls Series 21
Date of Death: May 4th, 1876
Cause of Death: Murdered by a wizard
Chipboard Poem
Edit
You may find something extraordinary
if you chose to chase this green fairy
She feeds in the forest on wormwood roots,
likes dancing with dwarfs wearing her boots
Death Certificate
Edit
Killed by the wizard
and thrust into the void,
when she reemerged
she was quite paranoid
Accessories
Edit
Fun Facts
Edit
Based off the drink Absinthe. She is the first doll to be based on an alcoholic drink.
Her paranoia is based on the misconception that Absinthe causes madness.
The tv series Scariest Places on Earth did an episode on fairies in Ireland, showing us that fairies are really evil and on that same episode Charleville Forest Castle was build on a fairy path by an Irish architect, Francis Johnston so he can steal the fairy's evil power to add to his cult's black magic.