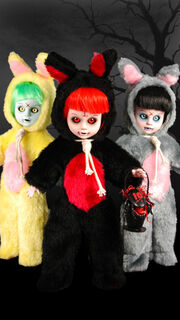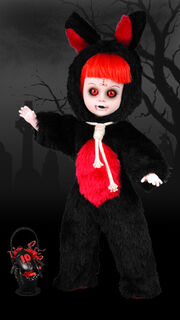 Living Dead Dolls Exclusives
Date of Death
Edit
N/A
Chipboard Poem
Edit
A drawstring used to fasten ears of a rabbit,
put this little bunny in a kiddie Casket.
Death Certificate
Edit
Crawling out of their coffins
These dolls ushered in a new era
They invite you to join them
As we celebrate ten years of terror
Fun Facts
Edit
Value

U.S. Eggzorcist: $75-$125
U.K. Eggzorcist: $100-$200
Asian Eggzorcist: $175-$225

Only 666 of each type.
10th Anniversary Eggzorcists were released in 2008 commemorating 10 years of Living Dead Dolls. Three dolls were made and released exclusive to different regions of the world. Black Eggzorcist was exclusive to the USA, gray Eggzorcist was exclusive to the UK and yellow Eggzorcist was exclusive to Japan. Each 10th anniversary Eggzorcist comes with glass like eyes.
According to fans it's her ressurection form.
Ad blocker interference detected!
Wikia is a free-to-use site that makes money from advertising. We have a modified experience for viewers using ad blockers

Wikia is not accessible if you've made further modifications. Remove the custom ad blocker rule(s) and the page will load as expected.